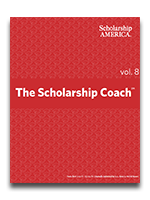 College is expensive. We can help.
Scholarship America believes that every student deserves an opportunity to go to college, regardless of their financial status.
To make sure the high cost of college doesn't keep students from earning their degrees, we're happy to bring you the latest free ebook in our Scholarship Coach series.This free e-book features more than 50 pages of highlights, tips and tricks for scholarship seekers in high school and college!
In this edition of The Scholarship Coach, you'll find advice on:
Finding scholarships in your major -- even if you're undeclared

Ambitious awards that are worth the effort

Using your social connections for scholarship support

Scholarships for creative, artistic and scientific minds

And more!