A college degree is a crucial investment in your future.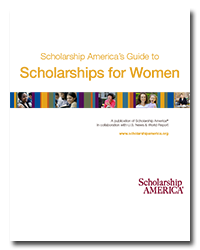 If you're a woman seeking higher education, there are scholarships out there that can help -- whether you're a high school grad heading to college, or a working mom going back to school. This free e-book will help you find them!
Women make up 57 percent of the nation's postsecondary population, and there is plenty of incentive for scholarship providers to create options specifically for women.
Many of these programs have clear goals in mind, such as encouraging enrollment in doctoral programs, propelling women into fields such as science and math, and preparing you for leadership positions after completion.
No matter what your educational interest may be, Scholarship America's Guide to Scholarships For Women can help you find ways to pay for it!